Sustainable Spotlight
Bottle Underground + Remark Glass | Closed-Loop Glass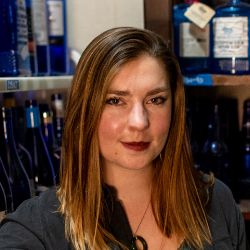 Kate Duffy · Development Manager
We sat down with Kate Duffy, Development Manager for Bottle Undergound and Remark Glass, to discuss recirculation, recycling, downcycling, and upcycling of community glass—and how we can help keep this infinitely recyclable material out of landfills.
The reports of curbside-recycled glass being crushed and tossed into landfills to control the smell are discouraging. Approximately how much glass has Bottle Underground and Remark Glass diverted from landfill and made into new pieces since project inception in 2020?

We started Bottle Underground (BU) in late 2020, so most of our glass intake is from this last year. In 2021, we salvaged 26 tons of glass from landfills, equating to about 50,000 lbs from our drop offs and collections. In our lifetime as a company, we have diverted 36 tons of glass and so far this year, we have only continued to increase that amount month after month. Within the first 2 months of the year we already salvaged another 7 tons of glass.

Can a glass jar be melted and made into a new piece over and over again without losing its quality? Is glass really infinitely recyclable?

Yes, glass truly is an infinitely recyclable resource, as long as it is kept clean and sorted by color. In the city of Philadelphia, because of how the traditional single stream system works, 0% of glass is able to be properly recycled—so once it is collected and crushed, it is instead used as landfill cover. Through our process, we sort our glass bottle and jar donations based on the purpose of each glass vessel. Some are sorted based on color and stored in our "color room," where they await being pulled for Remark Glass products produced in our glass blowing studio. Some move through our cleaning and delabeling process for our small business clients to use as packaging for their products. Some are designated as glass to be crushed for a variety of projects that involve glass cullet. Here at our facility, none of the glass goes to waste. Everything has a second life.

Our community has embraced your efforts full-force and we deliver a good amount of bottles and jars to you weekly. Assuming we are not the only ones in the region with an appreciation for glass, do you ever get too much of it? Does every single jar get a new life? If not, what happens to the ones that are left out?

We wanted to create a space where anyone is able to donate glass and divert it from the waste stream no matter their financial circumstances. It still requires staff to run these services and intake, sort, and process the glass for recirculation, and recently we have been inundated by the turnout of glass donations that we have been receiving. Besides glass we encourage people and groups that care about material recirculation to commit to a financial donation alongside the glass so that our team can operate smoothly. As mentioned above, each bottle or jar has a purpose whether that be upcycled, recycled/reused, or downcycled. Depending on how the glass will be processed, the value of the glass is truly not enough to re-imagine the city's system, so we rely on your support!

Do you have any use for the caps and lids or should we take them off before bringing the glass to you?

We currently do not have a use for caps or lids, as we do not have a way to properly sanitize them for reuse. We do however partner with Rabbit Recycling, a service that collects a variety of recyclable materials. All of our non glass recycling, like when we receive plastic or metal/aluminum lids, gets separated and recycled through them. If you haven't heard of Rabbit Recycling, we highly suggest you check them out!

Which is more responsible in your opinion—grabbing a soda in an aluminum can, or one in a glass bottle that will end up at your studio?

Well, obviously bring it to us! However, we don't want to knock another recyclable material, as long as it's also getting properly recycled. Aluminum is more likely overall to be recycled than glass, if you are speaking of the traditional blue bin recycling system. So if you are out and about and can't bring your glass with you, choose aluminum. If you can save the glass and bring it to us, you will know that any glass bottles or jars will 100% be getting reused in another way. For those of you looking for certainty in your recycling journey, then choose glass and bring it to us.

What is the most challenging piece for Bottle Undergound when looking at daily operations?

At the moment, our greatest challenge is the space constraints we are facing. We are currently housed in the Bok Building on Mifflin Street in South Philadelphia. Bok building is a repurposed trade school that is now home to multiple shops, artist spaces, community gathering spaces, and restaurants. It has been our home since Remark Glass was founded in 2016 and we were one of the original tenants who inhabited this repurposed space. We love our home here, but since we are in repurposed classrooms and locker rooms, we have space limitations for where we can store all the glass donations we are receiving. Our goal this year is to raise funds to purchase an additional space for us to continue to grow our offerings as a nonprofit. Once we are able to house more glass and machines for processing, we can expand our glass recycling capabilities to support as much of the city glass waste as possible. Currently we are only processing about .05% of the city's glass waste! So there is so much more glass waste to be tapped into and reused.

What are the three top-selling items in your showroom?

We don't want any of our glass pieces to feel less special than the others. Each piece is handmade and, although similar, have their own unique flare. Some of our best sellers are the short stemless glasses in a vast array of colors, the pint glasses with our signature thumbprint, and the eye catching lighting pendants.

We love to see communities and small businesses helping each other out. Can we find your tableware, barware, and decor pieces in restaurants, bars, or shops around Philly?

The circular process that we create with our partners is one of the sole reasons we wanted to form Bottle Underground in the first place. We see the opportunity for a localized closed loop recycling system between businesses in our community. A small business no longer will need to outsource their packaging from other parts of the country, or other countries all together, because they have a reliable supply chain and sourcing model present here with us. This system is one that can be replicated across multiple cities and regions alike. In addition to offering glass packaging for local businesses like Vellum Street Soap Company, Good Buy Supply, and Ray's Reusables. In addition, Remark works with some clients that support our mission of a closed loop economy. We recently did a run of upcycled decanters, and barware for The Franklin, the speakeasy style bar in Center City that is due to reopen soon. In East Falls, floral studio Vault & Vine, offers bouquets in our upcycled vases. For other insights into our partnerships follow us on our instagram pages @RemarkGlass and @BottleUnderground.

In ten years, what does Bottle Underground and Remark Glass look like? Are there expansion plans? Any new projects on the horizon?

Bottle Underground, though it is the younger of the two, is where we are targeting our heavier expansion. Bottle Underground was formed with the intention to pilot alternative solutions to glass waste that could be implemented to support the waste stream in the city of Philadelphia and grow across other cities. In order for this to be possible we are looking to add an additional space to expand our storage capacity and to partner with facilities generating large amounts of glass bottle and jar material. With additional space, Bottle Underground will continue supporting our local small and medium sized businesses in their supply chain, increase the number of businesses we can provide glass packaging to, and ultimately offer a reliable source of packaging for all their product needs.

Is there anything else you want to share with our community about your program and how they can help support your glass recycling endeavors?

Yes! For anyone who can, we encourage you to support by donating on our website. Keep an eye out for our crowdfunding campaign launching later this month that features some fun prizes for contributions with the intention to support funding for our new location. Also, for anyone who plans to donate their material frequently we ask that you join our BU milk crate exchange program. For a one time deposit of $15, you will buy into our milk crate program. Every time you bring us (or SHIFT) your glass in our BU crate, we will exchange it for an empty BU crate that you can fill up for your next drop off. It makes it easier for our team, and reduces overall waste that is generated as a result of boxes and bags that are used with each glass drop off.