Weekly Challenge
Week 13: Good Food Gone Bad
It's Food Waste Prevention Week, so for this week's challenge we're teaming up with our favorite warrior in the fight against food waste, Gwenn Nolan of Mother Compost!
Food For Thought: Farm to Fork to Landfill
When you toss uneaten food in the trash, you're not just throwing out one apple or tomato.
All of the energy and resources that go into it—the water, the harvesting, the labeling, the packaging, the transport, the storage—all of that's thrown away at the same time.
Be a Waste-not Warrior
Using the Five R's to curb food waste not only saves food; it saves money, saves the planet, and fights food and water insecurity.
Food waste is a huge problem, but there are many simple shifts we can make. The EPA gives lots of great guidance on how to prevent food waste at home; but for now, let's challenge ourselves to pick one or two of these low-hanging fruits this week:
At the Grocery
At Home
Now What?
You've refused, reduced, repurposed, and tried to gift it; but you still have food waste and scraps. Next stop: rot.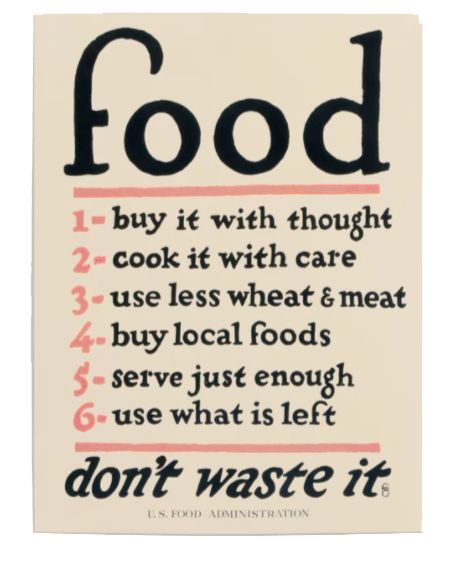 Diverting food from the landfill or incinerator to the compost stream has huge benefits!
Reduces greenhouse gas

When food scraps decompose in landfills, they release Methane, a greenhouse gas 20x more potent than CO2 and a major contributor to our changing climate. Landfills emit around 17.5% of methane to the world. If landfill-generated methane were a country, it would rank 3rd in the world in emissions (EPA Methane Info)

Carbon sequestration

Healthy soils pull carbon out of the atmosphere and into the ground where it can be used to feed plants & trees. Compost helps with this process by creating healthier soils & returning vital nutrients back into the ground.

Compost builds healthy soils

Compost created from food waste and other nitrogen rich materials helps to improve soil structure & overall health. Compost acts like a time-release vitamin, slowly releasing beneficial nutrients & microorganisms into the soil.
You are not just what you eat, you are what you eat eats.
Get the Family Involved
Make food rescue fun and informative with these fun activities!
Watch a Film
Just Eat It: A Food Waste Story
Filmmakers and food lovers, Jen and Grant dive into the issue of food waste from farm and retail, right to the back of their own fridge. They pledge to quit grocery shopping and survive only on rescued food for 6 months.
Wasted! The Story of Food Waste
An informative and entertaining documentary produced by celebrity chef Anthony Bourdain, "Wasted!" takes you around the world, showing the 1.3 billion tons of food that gets thrown out each year and the people fighting hardest to prevent it.
Play a Game