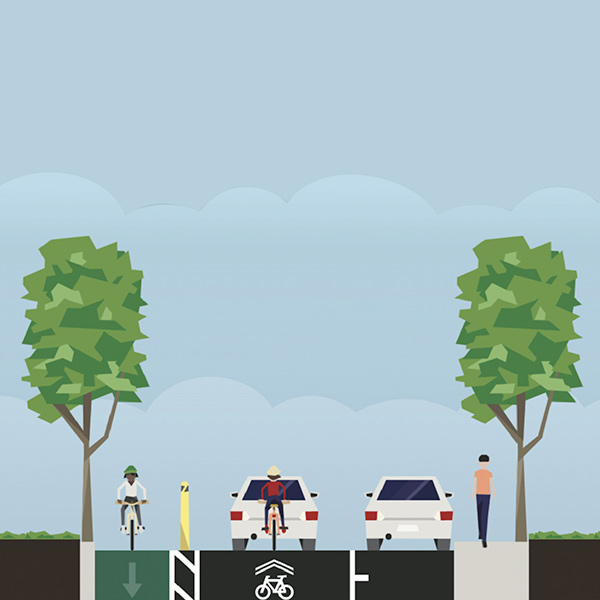 Events
Wheels on Haverford Pilot
Through March 31, 2022
Narberth Borough · Haverford Avenue & North Wynnewood Avenue · Narberth PA
visit website
Narberth Borough has partnered with Pennoni Associates and Narberth Cycling Club (co-founded by SHIFT's Kimberley Bezak) to bring a bicycle infrastructure pilot to Haverford Avenue. It will demonstrate features of "complete streets" design (i.e. streets that accommodate all users and improve mobility).
Narberth residents and visitors now have the opportunity to experience and observe temporary roadway improvements along Haverford Avenue, spanning from Essex Avenue to North Wynnewood Avenue.
The pilot includes installation of a protected contraflow bike lane along the south curb of Haverford Avenue, temporary relocation of contractor parking along the south curb of Haverford Avenue, and enhanced signage and pavement markings to alert drivers to yield to people walking and biking.
The demonstration will provide an opportunity to:
test ideas with minimal cost and minimal use of borough resources.
collect data related to travel speeds, vehicle counts, and bicycle counts.
gather community feedback.
The pilot is a key step towards implementation of the bicycle network goals stated in the Narberth 2040 Comprehensive Plan, and builds on the success of the "Wheels on Windsor" protected bikeway demonstration in November 2020.
The outcomes of the pilot will help guide priorities and areas of focus for future pilots throughout Narberth. The pilot will also aid in future planning of permanent roadway improvements to reduce speeding, increase comfort, and enhance safety for all who live, work, and play in Narberth.
All are invited to experience the Wheels on Haverford pilot and complete the user survey. The pilot is expected to remain in place until Spring 2022.